About Mark Harrison
Mark Harrison is a professional tennis player and coach.  In addition to competing in regional, national and international tournaments during his extensive amateur and professional career, Mark currently teaches tennis at a prestigious club as well as at private homes on the Eastern End of Long Island, New York.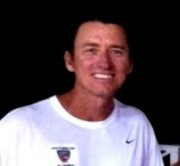 He also coaches high school boys and girls tennis teams, runs the Harrison Tennis Academy and gives private lessons at his home in Melbourne, Florida.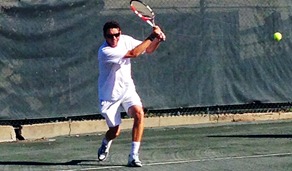 Mark currently is Director of Tennis at The Bridge, located in Bridge Hampton, New York, and previously held the position of Head Tennis Professional at the East Hampton Tennis Club for seven years.
Professional Achievements
Harrison is an active Member of the USTA, USPTA, and  a member of  the prestigious International Tennis  Club of the United States.
Mark has won fifteen USTA National Championships, including the 2013 National Grass court Championships, and regional tournaments including the 2014 USPTA Delray International with Andy Lake. He has been ranked number one in both singles (in Florida) and doubles (Nationally), and has been ranked in the USTA top ten for each of the past twelve years.
Mark was recently inducted into the Space Coast Sports Hall of Fame which honors people from Brevard County, FL who have accomplished highly significant achievements in sports.
Mark has also won the USPTA National Player of the Year (2004), the South Florida Championship (1991) and the All American Award (Palm Beach State College, 1987), among other awards ad accolades. He has played in international competitions representing the United States in the Avory Cup in the United Kingdom and the Amigos Cup in Mexico.
In addition to his extensive competitive career, Mark has played numerous exhibitions with well known players such as Mikael Pernfors, Luke Jensen, Roscoe Tanner, Tom Gullikson and Vitas Gerulaitis. He also helped Rod Laver raise over $88,000 for the Boys and Girls Club of Minneapolis and St. Paul.
Teaching and Training
Mark received his early training from Ian Crookenden, Gus Palafox , Mike Dickens, Norman Holmes, The Nick Bollettieri Tennis Academy and Schlomo Glickstein at Ramat Hasharon Tennis Center in Tel Aviv, Israel.
Mark has over twenty five years coaching experience, and established the Harrison Tennis Academy in 1993 in Melbourne, Florida. He has coached the high school boys' team at Holy Trinity Episcopal Academy in Melbourne Florida since 2007, and recently assumed the responsibility for the high school girls team as well.
He uses his knowledge to teach players of all ages and skill levels, in both private and group settings, stressing the fundamentals of stroke production, strategy, conditioning, mental toughness, and sportsmanship. Some noted students of Harrison's programs include Lauren Kalvaria, Yasmin Schnack, and Vladimir Obradovic.